Enfield Council issued a rallying cry to all local artists to get in touch with ideas to create a special exterior artwork for display at the Dugdale Centre in Enfield Town. The centre is an an art and business space for the local community to enjoy. It has been closed since the covid-19 lockdown and is currently being used as a covid vaccination centre.
I was really surprised but overjoyed when they called to say that they had chosen my design. They mentioned that they had chosen it as they felt that it was specific to Enfield and that it was hopeful…a sign of things to come.
Vision
My vision for the exterior art for the Dugdale Centre was always going to be colourful. It really is what I do best. My illustrations are sometimes a little quirky. Generally fun with a bit of seriousness thrown in for equal measure. I wanted to create a joyful scene of hope, love and solidarity. Due to the large area my thoughts were that a layered illustrative scene would work really well. See below proposed sketched idea.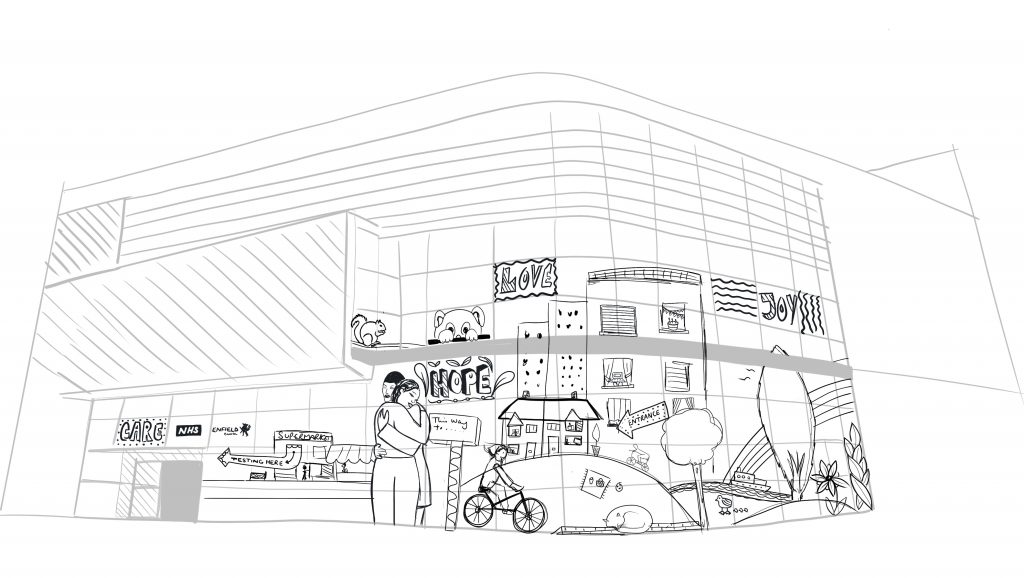 I wanted to feature Forty Hall as it's such a recognisable building in Enfield. For most of us, our homes have been our staycations for the past year. A place where our home life merged with our work life. And where some of us were truly able to gain a work/life balance. A place where we got to spend more time with the family and maybe enjoyed a video call or two with extended family and friends. Enfield parks have been our salvation – helping us to get out in the fresh air and stay local with much needed open space around us to keep us as safe as possible.. We had to find new ways to get our exercise quota in when the gyms had to close their doors. The canal on the east side of the borough is a lovely area to cycle along and see the families of water birds.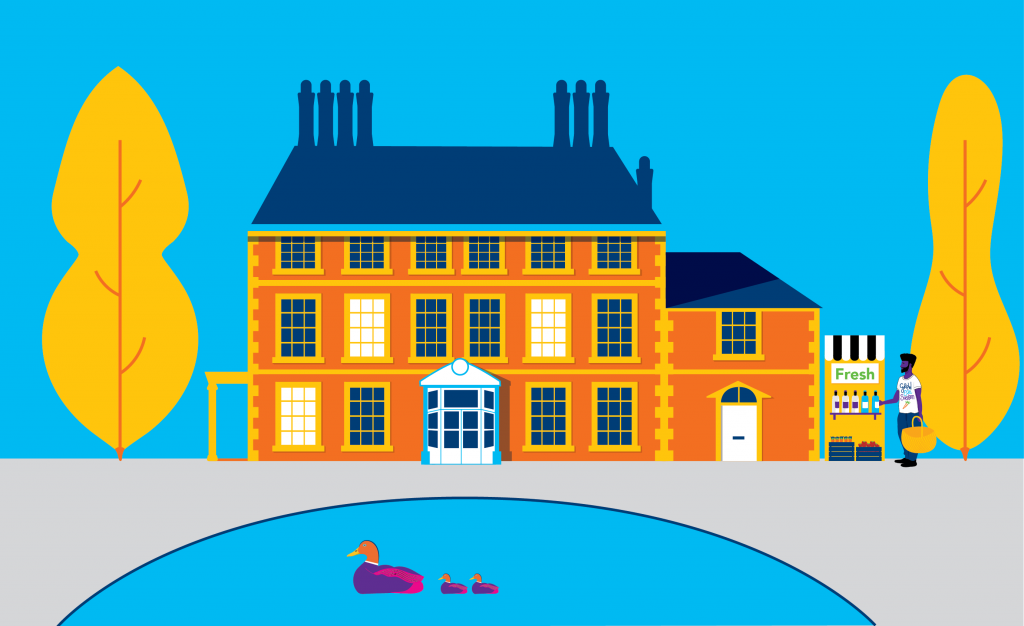 Wildlife is an important part of the area in which we live. Birds, squirrels, foxes – our pet dogs and cats. I almost included a rainbow as this is now synonymous with the NHS but the art piece is full of rainbow colours so it really wasn't necessary.

Typography
I wanted the art to depict hope (with added typography) that things can get back to a new kind of normal. It's also a celebration to what we've all managed to achieve in these very difficult times. We should all give ourselves a pat on the back. I know first hand that it hasn't been easy.
All of the typography featured has been hand drawn or has hand drawn elements added to it. The words act as a gentle reminder to keep safe, enjoy yourself and to always Be(e) Kind.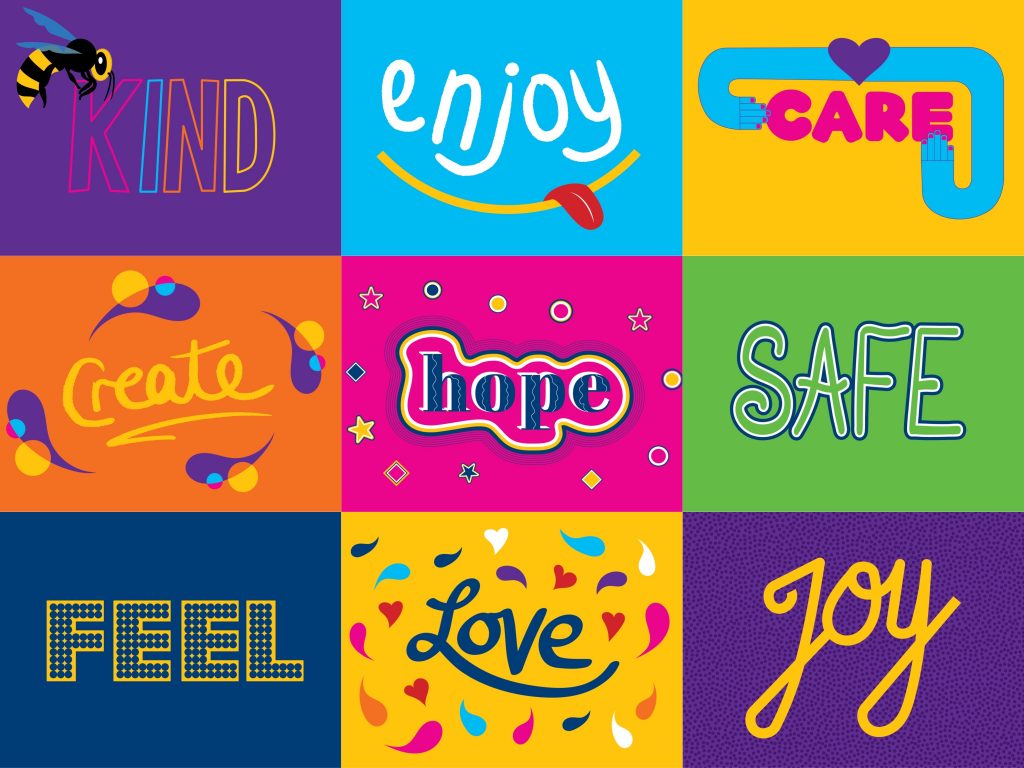 Non skin tones
I enjoy using colours which aren't normal skin-based ones. Coming from a Caribbean background, representation definitely matters to me and I feel that it's important for children (and adults) to see people in the arts that represent them. I enjoy drawing natural skin-tone based illustrations but occasionally, I like to push the boat out with a huge pop of colour and this commission was one such occasion where I thought that it could be embraced. We are all one colourful nation with multiple countries of birth, where different languages are spoken and diverse cultures are celebrated. But we all live in one borough. Enfield.
The hug
I always knew from the start that the largest characters in the art would be of two people hugging. The centrepiece definitely evolved and appeared bigger than I had initially thought it would be. We all know that hugs have been in short supply this past year. We all miss them and we all want to get back to that as soon as it is safe for us to do so. I've also titled this entire art piece, 'The Hug'. There's no other name that would be more appropriate.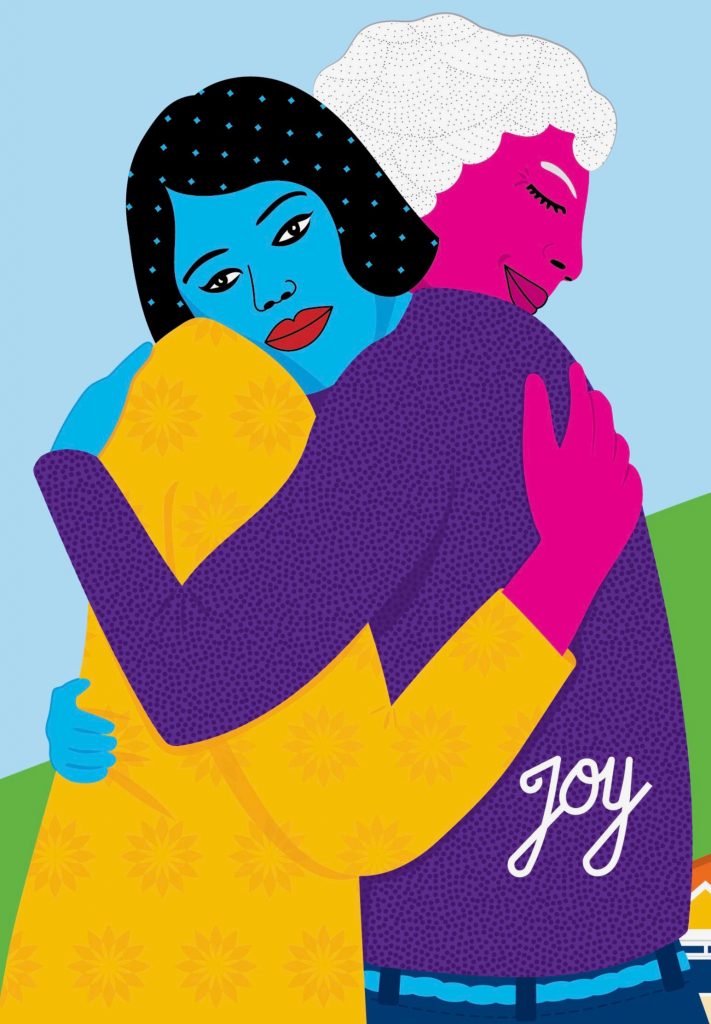 Grow, Eat, Sustain
Did you notice that this fella appears twice in the illustration? He's collecting food provisions grown at Forty Hall and then preparing it in his cafe. It's a nod to the amazing work that Forty Hall do with supplying sustainable food to local cafes and shops. Oh, and I'm told that they also produce their own wine. How cool is that?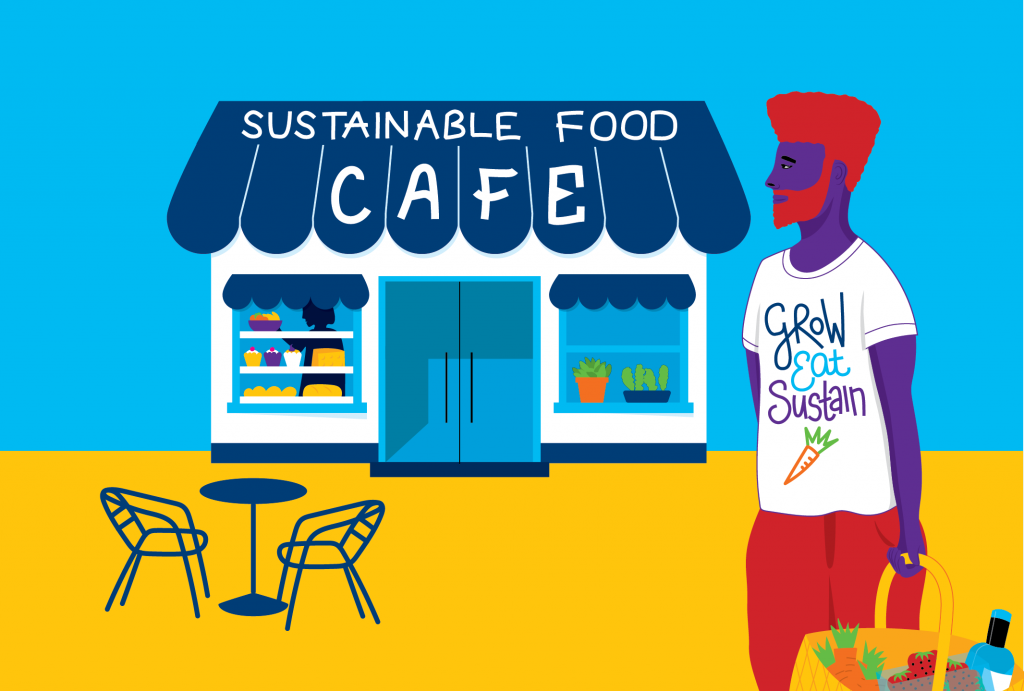 The Dugdale Centre
The lovely Dugdale Centre hidden behind this art is definitely not forgotten. Have a look for the singer and judggler. I'm looking forward to when we can all enjoy a theatre play or some comedic laughter here again in the very near future.
Where can I see the mural?
You can see the mural at The Dugdale Centre, 39 London Rd, Enfield EN2 6DS