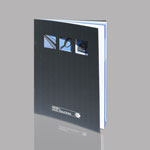 Sarah Andrews, group managing director, Merrill Corporation
Merrill Corporation has worked with Kareen for over five years, on a variety of design projects, including revising corporate marketing literature, launching new products and services and implementing new communication strategies. Kareen has an exceptional ability to understand and interpret our needs and our briefs and translate them into first-class design work. She has managed to blend innovative and contemporary ideas with the traditional values of our legal and corporate clients to create enduring, attractive and effective support materials which are used across our international offices on a daily basis.
Kareen has always been a pleasure to work with on the layout and design of marketing material, particularly our interactive brochures as pdfs, responding quickly to our requests, adjustments and updates by producing effective and high quality design results.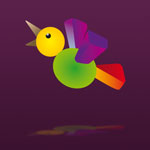 Cuckoo Hall yearbook
It must be said that all staff, parents and children have been extremely impressed by the Yearbook. As teachers, it gives us all pleasure to know that our children have something so personal and intimate to remember and cherish their time and years at the school with.
Children have been delighted with their yearbook and when asked why they simply have said, because it captures 'us and what we do in class and the playground'. Somebody also said that 'we can now remember our time at Cuckoo Hall forever'.
We would just like to say a big thank you to Kareen for producing a yearbook that we can all keep close to our hearts for many years to come. Her work is exceptional and she is a dream to work with, creating a piece of history for the children to remember.
Kerry McEwan, Head of year 6, Cuckoo Hall Primay School
The yearbook is fantastic and the pictures have come out superb.
Nabila, year 6 pupil
Thank you for working on the book, it is amazing.
Charley, year 6 pupil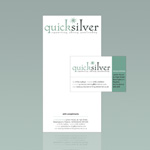 Nicola Andrews, freelance copywriter and editor, Quicksilver
As a writer, I work with lots of designers. But when you work with Kareen, as I have done for the last ten years, you get much more than great design. First, she is massively talented and very creative - always looking for imaginative new ways of presenting words and images that are just right for the intended audience. She listens carefully to her clients too, and quickly gets to grips with a brief, including any financial constraints.
Best of all though, you know she will really take control of a project, driving it through from the initial brief right through to publication. She will take the initiative, making sure every job is completed on time, and to an incredibly high standard. No matter how complicated the project, Kareen is a joy to work with - and you will ALWAYS be delighted with the end result.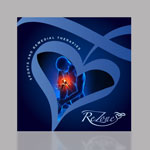 Ile Solanke, sports and remedial therapist, ReZone
Every business wants to make a good first impression.
As a new business I wanted a brochure that expressed who I am and what I am about. I also wanted a product in a format that I could use as an on-line brochure. Kareen and I discussed my Sports Therapy business and she, instantly, knew what was needed. She personally took the time to take the photographs of my clients at their sports events. I was so impressed when she accompanied me to a football match on a cold Sunday morning. That is true dedication.
I gave Kareen my 'wish list' and she delivered. The quality is of corporate level, helping my potential clients see that my business has high standards and therefore would deliver a good quality of service. Kareen remained professional at all times, and after our first consultation, it was hard not to regard her as a friend. She checked at each stage that she was on the right track and invariably, she was - from designing a logo, to the layout of the finished brochure. See for yourself. I don't think I need to say anymore
Her work speaks for itself.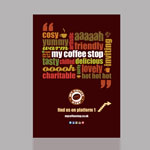 Karen Mercer, My Coffee Stop
I showed Kareen where I wanted posters for our business to go and I told her, I want people to want to come into our shop after seeing the posters. What a vague brief. I found it really easy to talk to Kareen and took her into our shop, so that she could get a feel for it herself. The designs she produced are eye-catching and full of personality. I am so relieved that we have found her. We are only a small company and found her pricing very reasonable, not only that but there were no nasty surprises to catch us out, as the whole pricing structure was explained really clearly and was very fair. Kareen has a real talent, flair and passion for what she does. I'm looking forward to giving her more work and have already recommended her to several of my business contacts.
Arlene Rhoden, In the Spirit
Wow. We had an idea for our unusual business and she made it come alive. Kareen has been a key player in our business development. Not only has she worked with our thoughts - she has also helped us by making suggestions as to how a customer might view our product and marketing material. In the film Jerry Maguire there is a line that goes, 'You complete me', and Kareen does just this for any business - she completes the business concept through her inspirational ideas and designs.