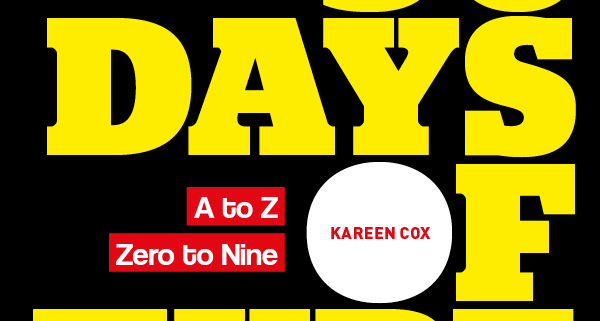 Personal projects don't come along very often with me but when they do, it generally means that I want to put my all into it and really push the boat out creatively.
I've always loved typography and I stumbled across the 36 Days of Type project on instagram on the day that it started (29th March). Now in it's third year it has a very healthy amount of contributors and followers. I didn't think twice about doing it or worry about how much of my time that it would take up. I just jumped head first and thought that no matter how busy I was that I was going to finish this project and that it was going to be good. And I'm so glad that I did it. It's such a creative project to do and it really got the creative juices flowing. I gave myself a 45 minute time limit on producing each character. Needless to say a few of them did go over the allocated mark and some were invariably a lot quicker to do but honestly, it's the thought process that takes the time. So I found myself jotting down ideas on a train journey, thinking about what would work whilst watching Scandal (and then finding myself rewinding the sky+ due to missing a whole scene). There was one person in particular on my facebook business page who followed my designs every day, took time to comment and gave me ideas  as to which route to take. Thanks Claire. You helped immensely.
The letter 'J' took well over an hour to do and some of them only 30 minutes. But what I found was that the first design was sometimes discarded as I wasn't happy with it for whatever reason, so I'd do another one. This invariably took up time. I did about five different 'Q's before I settled on the chosen one. I did different colour variations for C and L and I did a completely different one for V which is Vroom. This one worked really well but hey…I couldn't choose them all so I had to be a little ruthless. I enjoy getting the kids involved in my projects as their minds are so open and unrestricted. They suggested rhymes for the numbers which is why the sentences are a bit…well how should I put it…naughty and free.
I had a great time doing this project and received encouraging comments from the instagram community as well as on my facebook business page. I followed other artists who were also doing this project and discovered some amazingly talented people. Some of the animated type that they did was truly creative.
I'm now wondering what to do with these characters. Should I create some greetings cards? Some tees or maybe some wall prints? I'm also thinking of developing a few of them into a full alphabet but I'm still mulling this over. Time is currently not my friend. Let me know what are your favourite characters and why. Enjoy.
Update: A hardback 12×12 inch book of all of the characters is now available to purchase here.
https://www.absolutelykareen.co.uk/wp-content/uploads/2023/04/article-36-days.png
600
600
Kareen Cox
https://www.absolutelykareen.co.uk/wp-content/uploads/2023/07/AK-logo-update-white-1030x149.png
Kareen Cox
2016-05-19 19:00:14
2023-05-17 15:33:10
36 Days of Type